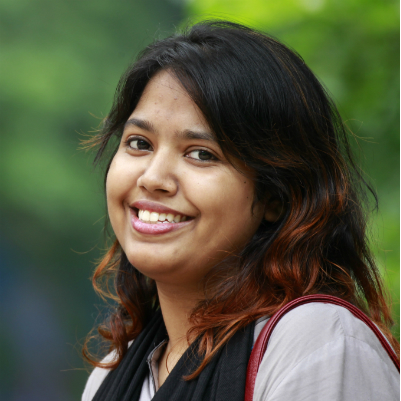 NISHAT PARVEZ
Assistant Professor
Nishat Parvez is an Assistant Professor in the Department of Journalism and Media Studies. Before joining here, she worked as a lecturer in Journalism & Media Studies at Stamford University Bangladesh.
Nishat started her career as a sports journalist at Boishakhi Television in 2012. Then she joined Channel-I, a leading media organization of Bangladesh a newsroom editor. She worked there for five years. She worked as a consultant in non-government organization Helvetas (Swiss Intercorporation). Nishat was a fellow at the Centre for Budget and Policy of the University of Dhaka. There she worked on the impact of leather industry on the environment in Dhaka City. She was also a research associate at Red Orange Communications, Bangladesh NariProgotiSongho and University of Bergen (Norway). She worked as an Editing Assistant in the magazine 'Jogajog'(Volume-10) published by the SrabonProkashoni in June 2016.
Nishat published several research articles in Bangladesh Film Achieve Journal. The titles of the articles are: "Belaseshe: Ekush Shotoke Narir Obyob Nirman", "Bangladesher Samprotik Cholochitre Sangbadik Choritro Nirman" and "Shishur Proti Sohingsota, Shishu Monojogot o Samprotik Cholochitro". One of her research report titled "Use of Social Media (Facebook) in Gulshan Terror Attack" was published in the 'ICT for Development Working Paper Series,(December-2016)'.
Nishat has presented her research at some National and International Conferences. Her areas of interest are: New Media, Multimedia Journalism, Broadcast Journalism, Environment Journalism, ICT, Advertising, Film and Television Studies, Cultural Studies, Visual Anthropology, Human Communication and Editing.
Nishat earned her Masters and Honors from the Department of Mass Communication & Journalism, University of Dhaka. She was a fellow of the State Department of the USA under fellowship program on New Media & Journalism at the University of Washington.
Nishat writes for the Daily Prothom Alo, Daily Ittefaq, Seattle Globalist and Channel-i Online. She served as a member of film clubs, cultural society, and career clubs. Besides her academic career, Nisha worked on volunteering projects. She has worked for anti-addiction movements and some other social organizations. She participated as a volunteer in the Youth Volunteering & Community Projects in Sri Lanka.