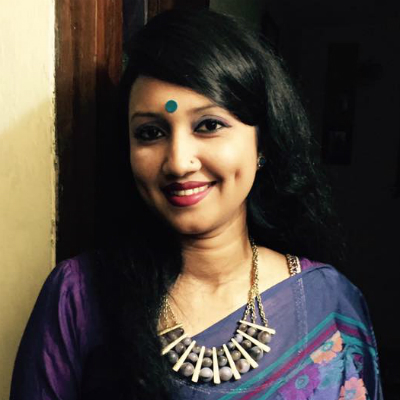 SALMA AHMED
Assistant Professor
She is an Assistant Professor at the Department of Journalism & Media studies (JMS). She holds a master's and bachelors in Mass Communication and Journalism from the University of Dhaka. Before joining this position, she had worked at the National Credit & Commerce Bank Ltd (Ncc Bank), as a Brand Manager in Public Relations & Brand Management division. Salma Ahmed also worked as a part time faculty member at the Department of communication & media studies in University of Development Alternative (UODA) from 2007 to 2016.
She started her career as a research assistant in the Bangladesh Center for Development, Journalism and Communication, a media research organization based in Dhaka in early 2001.She also worked as a Deputy Editor, Bangladesh Journalism Review (BJR) a publication of Bangladesh Center for Development Journalism & Communication. Later, she took up the position of News Presenter at the International Television Channel (NTV).Finishing two and half year stint there, she joined the Banglavision a TV Channel, in january 2006, as a News Presenter and Program researcher till 2011. After that Salma Ahmed also worked with Channel 24 as a News Presenter at 2013.
Salma Ahmed jointly conducted a Photo Exhibition on "Nurjahan Begum – Life & Work" with Sayeda Khanom which is organized by "Bangladesh Nari Sangbadik Kendra" in 2007. She also organized another solo Photo Exhibition held on "Shuvas Datta – Life & work" in 2012.
Her research work entiled "Role of Nurjahan Begum in the Expansion of Women Journalism, "Media Advocacy Strategy to Prevent Smoking, Evaluation of Photojournalism: Perspective Bangladesh, "Place of Visualization in Photograph, Categorizations of the Newspaper in Bangladesh: An overview, Importance of the Special Pages In the National Newspapers: Steps of the outlining processes, planning & analysis. Salma Ahmed's interest center around Photojournalism, Media Advocacy, Public Relations, Public Communication and Reporting.